Have a Moment?
Hear a Song!
Listen to Our Music On Your Favorite Platform Below
Who We Are
A Little Bit About Us
The Nautical Theme is a modern-folk duo featuring the ebb and flow of male/female harmonies and honest straightforward songwriting ringing off ivory keys and steel strings. Based in Dayton, OH, The Nautical Theme was formed in March of 2017 by Tesia Mallory (vocals, keys) and Matt Shetler (vocals, guitar). The duo loves to write, record, perform, and make connections with their original music, classified as modern folk, Americana, and indie-pop.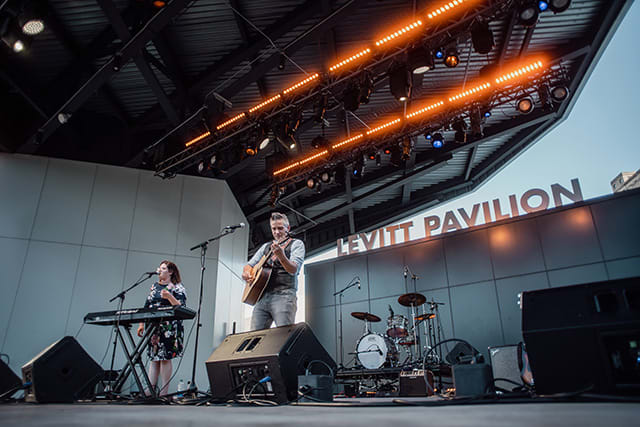 For Fans of:
The Civil Wars
The Decemberists
Jimmy Eat World
Simon and Garfunkel
Our 4th Studio Release, "Get Somewhere"
Released June 30, 2023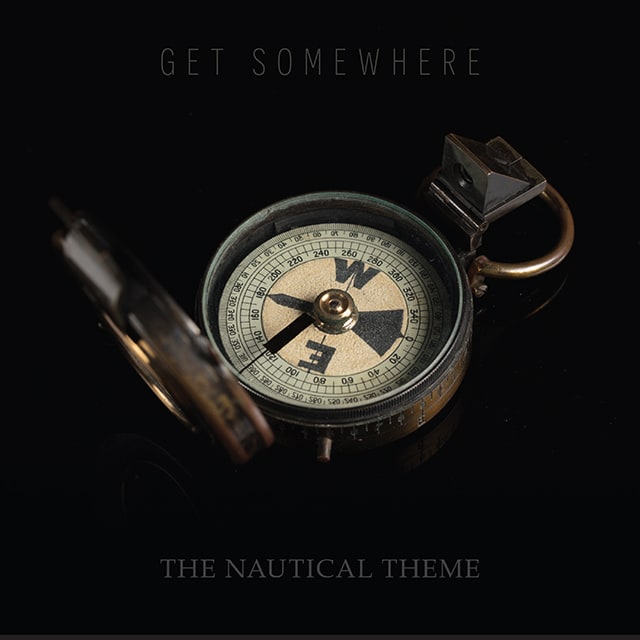 "Get Somewhere", the fourth studio release from The Nautical Theme, was recorded at Trojan City Studios (Troy, OH) by owners Seth Canan and Chris Stewart and at Ready Shet Go Studio (Dayton, OH) by Tesia Mallory and Matt Shetler. Mixed and mastered by award winning, Nashville-based producer Ben Reno (Loretta Lynn, Breaking Bad, The Voice) at Majestic Ape Studio.

This six song EP and forthcoming companion EP ("Do Something", 2024) is a culmination of The Nautical Theme's three-year-journey to get somewhere. We all want a straight and easy path with a compass to guide, but that's not always how it works. The dirt road twists and turns. There's wilderness as far as the eye can see. We try to get somewhere…anywhere…in hopes that maybe we'll find what we're looking for. In the end we may discover that the road leads us right back home.

"The first thing you notice is their voices which blend perfectly. Tesia has what seems to be a remarkable range and is capable of great power and great subtlety while Matt is more nuanced, with something of an Everly Brothers vibe"
- Folking.com
"Well versed in harmonies and attractive, slightly poppy songs with shades of Paul Simon and Fleet Foxes"
- Paul Kerr, Americana UK
"It feels like a soundtrack to a long-lost memory or a forgotten dream, a testament to The Nautical Theme's mastery of creating sonic spaces that transcend the boundaries of traditional songwriting."
- Dr. Art Jipson, Your Tuesday Afternoon Alternative

Connect With Us
We'd Love to Hear from You
Upcoming Shows
Let's Get Together Soon
Friday, October 20, 2023
Dayton Music Fest
The Trolley Stop
530 E 5th St,
Dayton, OH 45402
Tracy Perkins 7:20 - 7:50
Achilles Tenderloin 8:10-8:40
Michael Tomlinson 9:00-9:30
Novena 9:50-10:20
The Nautical Theme 10:40-11:10
Harold Hensley 11:30-12:15

Full festival line-up:
www.daytonmusicfest.com
Tickets:
Buy Now

Saturday, November 18
Clifton Opera House

Digital and physical copies of our music, T-shirts, stickers, and more. Take a look and find something you like.
"Something Old, Something New, Something Borrowed"
Released July, 30, 2021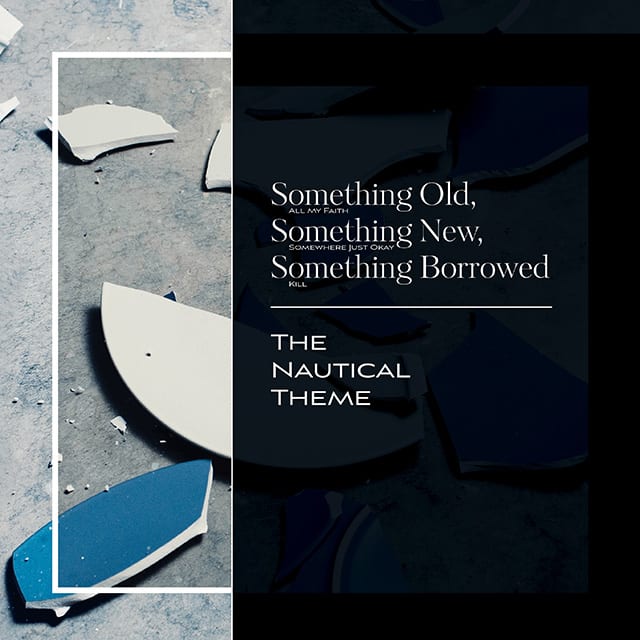 "Something Old, Something New, Something Borrowed", the third studio release from The Nautical Theme, was recorded at Ready Shet Go studio by Tesia Mallory and Matt Shetler. Mixed by Micah Carli, formerly of Hawthorne Heights, at Popside Recording (Nightbeast, The 1984 Draft). Mastered by John Naclerio (American Authors, My Chemical Romance, Brand New) at Nada Studio.

This three song mini-EP travels through past, present, and "futures" while exploring the common thread of what defines commitment. Hope. Reliance. Pain. Perseverance. We need commitment to carry us through. Sometimes it sustains us. Other times it seems to destroy us. Share these joys and struggles with us through these songs.
Our Sophmore Album, "Lows+Highs"
Released March 20, 2020
Mallory and Shetler set out to create their second album with a sharper focus on the duo's strengths - straightforward songwriting, lush melodies, and engaging dynamics. Returning once again to the comfort and schedule accommodating space of Ready Shet Go Studio, they completed ten new songs. To expand the concept of the album title, Lows and Highs, Mallory and Shetler made a deliberate choice to build out the arrangements for half of the songs, which included adding live drums to several of the tracks. The drums were recorded by long time friend, previous musical collaborator, and supporter of the band, Justin Crim and were tracked by Micah Carli at his Popside Recording studio. Carli was once again tapped by the band to mix the album. John Naclerio (American Authors, My Chemical Romance, Brand New) lent his talents to master Lows and Highs.

"This powerful song has incredible impact on the listener. We are so proud of Tesia and Matt for creating music that is so insightful."
- Art Jipson, Your Tuesday Afternoon Alternative
"Enthralling sophomore album, Lows+Highs"
- Don Thrasher, Dayton Daily News
"This release is a great example of the acoustic folk duo's work and there are many reasons to love it"
- Theo Gainey, Daytonlocalmusic.com
"What you will remember most is the wonderful way their voices intertwine to create lovely and breathy music"
- Alan, The Rocking Magpie
"On this record their voices and vision blend brilliantly, displaying meaningful lyrics, honest vocal arrangements and authentic expression of the challenge of everyday life."
- Art Jipson, Off Shelf
"One More Left" Song Premiere, Ghettoblaster Magazine
"The new album sees vocalist/keyboardist Tesia Mallory and vocalist/guitarist Matt Shetler broaden their stunning harmony-rich folk-pop sound with fuller, more dynamic arrangements"
Justin, Atlas and the Anchor
"The whole thing has a nice pop polish to it without being too commercial. The harmonies in particular really lift the overall sound into something more than the sum of its parts."
- Harold Hogan, Americana UK
Our Debut Album, "Float"
Released April, 2018
Recorded at Shetler's Ready Shet Go Studio, Float was mixed by Micah Carli, formerly of Hawthorne Heights (Nightbeast, The 1984 Draft) and mastered by Jake Bryant (Dangerkids, Cinema Century). The album and the duo's performances gathered up a handful of positive reviews from places like Soundblab, Americana UK, and Tuned Up. Don Thrasher (Guided By Voices, Swearing at Motorists, Smug Brothers) graciously placed Float in the top 20 albums released from Dayton in 2018 in his yearly round up article for the Dayton Daily News. The Nautical Theme also found radio play on several stations throughout the year.

"Intensely Bittersweet Love Songs of Immense Proportions"
Alan, The Rocking Magpie "Wild Open Harmony Folk Music"
Bill Golembeski, Soundblab "Inspiring and Cinematic"
Justin, Atlas and the Anchor "Fine & Musically Accomplished Example of Modern Folk"
Jonathan Aird, Americana UK "Incredible Harmonies and Some Stunning Melodies"
Vicky Caswell, Thinking Lyrically In the Top 20 Releases from Dayton, OH, 2018
Don Thrasher "The Duo's Folk/Americana Sound is Memorable and Lush"
Ryan Getz, Tuned Up
We want to thank all of the kind and wonderful people at the following stations and sites that have added our music to their rotations and playlists.

WYSO 91.3, Yellow Springs WUDR 99.5 / 98.1, Flyer Radio WLFC 88.3, Findlay's Indie WTUD, Tiffin University WHIO 95.7, The Sunday Edge with Todd Hollst Inhailer Gems of Dayton Ohio Music Ohio Artists to Watch 2019 Edition Discover Dayton Local Discover, Promowest Ohio Unsigned Artists Frame the Stage | Within The Spotlight Would you like to add our music to a station rotation or playlist? Let us know and we'll be more than happy to help you out!
Places We've Been & People We've Seen
Previous Shows
Saturday, October 14, 2023
Yellow Springs Street Fair

Saturday, September 16, 2023
Yellow Springs Porchfest

Saturday, September 9, 2023
Troy Porchfest
SPONSOR: GNB Troy Banking Center
Porch 42
414 S. Plum St.

Friday, September 8, 2023
Figleaf Brewing Company
3387 Cincinnati - Dayton Rd
Middletown, OH 45044
7:00 PM

Saturday, August 19, 2023
Dayton Porchfest
67 High
Dayton, OH 4:00 PM

Thursday, August 10, 2023
Englewood Market
Wagoner Power Equipment, Inc.
520 W. National Rd.
Englewood, OH

Friday, August 4, 2023
Bellbrook Music Nights
Bellbrock Park
57 N. Main St.
Bellbrook, OH
5:30 PM

Wednesday, July 13, 2023
Trail Town Brewing
Yellow Springs, OH
James Fazio, Randy Miller, & Sean Caldwell
The Nautical Theme
7:30 PM

Thursday, June 29, 2023
The Nautical Theme Takes Over Showcase Thursday
"Get Somewhere" EP Release Celebration
Yellow Cab Tavern
Dayton, OH
Harold Hensley
Charlie & Amanda
Anna Marie
Seth Canan

Saturday, June 10, 2023
Mother Stewart's Brewing
Springfield, OH
7:30 PM
Daniel Dye & the Miller Road Band
The Nautical Theme

Friday, June 2, 2023
Tuck-N-Red's
Yellow Springs, OH
7:00 pm
GSMO (acoustic)
The Nautical Theme

Saturday, May 20, 2023
Blind Bob's
Sam King and the Suspects
Scary Hotel (special acoustic set)
The Nautical Theme

Saturday, May 20, 2023
Sideshow 16
Yellow Cab Tavern
Dayton, OH

Saturday, March 18, 2023
The Market Mother Stewart's
Springfield, OH

Thursday, March 16, 2023
"An Evening With"
The Nautical Theme
Sharon Lane
Danny Sauers
Trail Town Brewing
Yellow Springs, OH

Friday, January 27, 2023
COhatch Springfield

Thursday, January 26, 2023
Dayton Battle of the Bands
The Brightside

Thursday, November 17, 2022
Showcase Thursdays
Yellow Cab Tavern

Friday, November 11, 2022
The Nautical Theme x Charlie & Amanda
Mother Stewart's Brewing
Springfield, OH

Friday, October 22, 2022
Dayton Music Fest 2022
Yellow Cab Tavern

Saturday, October 8, 2022
Yellow Springs Street Fair
Soin Stage

Saturday, September 17, 2022
Yellow Springs Porchfest

Friday, September 16, 2022
Bock Family Brewing
8150 Washington Village Dr, Dayton, OH 45458
Free
Saturday, September 10, 2022
Troy Porchfest
2:00 PM
431 Lincoln Ave., Troy, OH
Free

Saturday, August 20, 2022
Dayton Porchfest
34 High St, Dayton, OH 45403
3:00 PM
Free

Saturday, August 13, 2022
Clifton Opera House
5 Clay Street, Clifton 45316
7:00 PM
$10

Friday, July 29, 2022
MusicNights in the Old Village
Bellbrock Park
57 N Main St, Bellbrook, OH 45305
6:00 PM
Free

Saturday, June 25, 2022
Chardon Love Fest
Chardon, OH

Friday, June 24, 2022
Trojan City Music
106 E Main St, Troy, OH 45373

Thursday, June 23, 2022
Levitt Pavilion Dayton
134 S Main St, Dayton, OH 45402
Age Nowhere
The Nautical Theme

Saturday, June 11, 2022
3rd Annual For Dayton by Dayton
Riverscape Metropark
237 E Monument Ave, Dayton, OH 45402

Saturday, May 21, 2022
Dayton Sideshow
Yellow Cab Tavern

Thursday, April 21, 2022
Yellow Cab Tavern

Thursday, April 7, 2022
Wandering Griffin
3725 Presidential Drive, Beavercreek OH

Friday, March 4, 2022
Bock Family Brewing
8150 Washington Village Dr, Dayton, OH 45458

Saturday, Feb. 12, 2022
Blind Bob's
Alyssa Hanson
The Nautical Theme
Charlie & Amanda

Saturday, Jan. 15, 2022
Winterfolk Fest
Yellow Cab Tavern
700 E 4th St Dayton Oh 45402
The Katawicks
Biscuits & Gravy
David & Heather
Charlie & Amanda
The Nautical Theme

Thursday, Dec. 9, 2021
Showcase Thursdays at Yellow Cab
Yellow Cab Tavern
700 E. Fourth St.
Dayton, OH 45402
7:00 PM

Friday, Dec. 3, 2021
Hatch Artist Studios
105 N. Center St.
Springfield, Ohio 45502
7:00 PM
The Nautical Theme
Vivian

Thrusday, Nov. 18, 2021
Hannah's Going Away Party at Yellow Cab
Yellow Cab Tavern
700 E. Fourth St.
Dayton, OH 45402
7:00 PM

Friday, Oct. 22, 2021
Mother Stewart's Brewing
The Nautical Theme
XL427
Daniel Dye

Saturday, Oct. 2, 2021
Southgate House Revival
10:00 pm

Friday, Oct. 1, 2021
Sweet Cheetah Publicity 9 Year Anniversary Show
Blind Bob's
21+
The Nautical Theme
Extra Arms
The 1984 Draft
The Color Fred

Saturday, Aug. 21, 2021
Dayton Porchfest 2021
145 McClure St.
Dayton, OH
4:00 pm
Check Dayton Porchfest 2021 for more information.

Saturday, Aug. 21, 2021
Rock Piqua
Downtown Piqua
1:00 pm

Saturday, August 14, 2021
For Dayton By Dayton
Riverscape Metropark

Wednesday, August 11, 2021
Kaleidoscope
WYSO 91.3 FM

Sunday, August 1, 2021
Sunday in the Park
Oak and Ivy Park
Wright-Dunbar Village
3pm - 6pm
TBD

Thursday, July 15th, 2021
Showcase Thursdays at Yellow Cab
Yellow Cab Tavern
700 E. Fourth St.
Dayton, OH 45402
7:00 PM

Saturday, June 26, 2021
Eichelberger Amphitheater
Huber Heights Farmers Market
8625 Brandt Pike
Huber Heights, OH 45424
10:00 am - 2:00 pm

Thursday, May 6, 2021
Showcase Thursdays at Yellow Cab
Yellow Cab Tavern
700 E. Fourth St.
Dayton, OH 45402
7:00 PM

Saturday, April 17, 2021
Plain Folk Café
10177 State Route 132,
Pleasant Plain, Ohio 45162
7:00 pm

Friday, April 2, 2021
Hatch Artist Studios
105 N. Center St.
Springfield, Ohio 45502
7:00 pm

Tuesday, July 28, 2020
Troy Hayner Cultural Center
301 West Main Street, Troy, Ohio 45373
7:00 pm
Free Tickets, Reservations Required:
Troy Hayner Reservations

Sunday, May 31, 2020
Eichelberger Amphitheater (Live Stream)
8625 Brandt Pike Huber Heights, OH 45424
2:00 PM

Tuesday, March 10, 2020
Your Tuesday Afternoon Alternative
WUDR 98.1 FM
4:00 pm
Listen to WUDR Online Here

Tuesday, Jan. 21, 2020
Dayton Battle of the Bands
The Brightside Music & Event Venue
905 E. Third Street
Dayton, Ohio 45402
7:00 pm
Get Tickets Now
The Katawicks
The Nautical Theme
DeadwoodAlley
The American Landscape

December 20th, 2019
7th Annual Songwriters' Solstice
Gem City Catfé
1513 E 5th St, Dayton, OH 45403
Achilles Tenderloin
Meg Cavanaugh
Vivian
The Nautical Theme
Brandon Berry
Anna Baugham
Boo Lee Crosser
Sam Stone
Kevin Milner

November 27th, 2019
The Nautical Theme at Opening Night - Gem City SoberBar Pop-Up
Lore
116 W 5th St., Dayton, OH
Alec Snead
The Nautical Theme
DJ Etch

November 1st, 2019
The Nautical Theme at The Coffee Pot
The Coffee Pot
537 S Broadway St #101, Greenville, OH 45331

Saturday, October 12th, 2019
Yellow Springs Street Fair 1:00 pm, Soin Stage
More info at Yellow Springs Street Fair

Saturday, September 14th, 2019
Troy, Ohio Porchfest
More info at Troy, Ohio Porchfest

Saturday, September 14th, 2019
Yellow Springs, Ohio Porchfest
More info at Yellow Springs, Ohio Porchfest

Saturday, August 24th, 2019
Dayton, Ohio Porchfest
More info at Dayton, Ohio Porchfest

Friday, August 2nd, 2019
Art in the City
More Information about Art in the City

Sunday, July 28th, 2019
Singer Songwriter Series
Jimmie's Ladder 11
936 Brown St, Dayton, OH 45409
The Nautical Theme
Kevin Milner
Shades of Grey

July 6th, 2019
Independence District Day! - The Oregon District
501 E. Fifth Street, Dayton, Ohio 45402

Friday, June 14th, 2019
Peach's
104 Xenia Ave, Yellow Springs, OH 45387
The Nautical Theme
Stringus Khan

Saturday, March 2nd, 2019
Sound Valley Winter Music Festival
The Brightside Music & Event Venue
905 East. Third St., Dayton, OH 45402

Main Stage:
Nightbeast
We Are the Movies
The Story Changes
Lioness
RIND

Acoustic Stage:
BJSR
Paige Beller
Knavery
The Nautical Theme
Zack Sliver of Yuppie

Thursday, Jan. 31st, 2019
Sofar Sounds Cincinnati
Fifty West Production Works
7605 Wooster Pike, Cincinnati, OH 45227
The Nautical Theme
Joshua Powell
The Ophelias

Friday, Jan. 4th, 2019
Northside Tavern
4163 Hamilton Ave, Cincinnati, OH 45223
Michael Moeller
The Nautical Theme
Willow Tree Carolers

Friday, Dec. 21st, 2018
Holidayton 2018
Blind Bob's
430 E 5th St, Dayton, Ohio 45402
The Story Changes
Abertooth Lincoln
YARDBOSS
The New Old-Fashioned
Jasper the Colossal
The 1984 Draft
The Raging Nathans
c.wright's Parlour Tricks
King Serpent
The Nautical Theme

Saturday, Dec. 8th, 2018
Oregon Express
336 E 5th St, Dayton, OH 45402
The American Landscape
Neo American Pioneers
The Nautical Theme

Saturday, Nov. 17th, 2018
Special In-Store Performance
Herzog Music
811 Race St, Cincinnati, OH 45202
The Heisey Glass Company
The Nautical Theme
Acousticsteveo
Charlie Jackson
Age Nowhere
Hooligan Ghosts
Goodnight Goodnight
Team Void

Thursday, Nov. 15th, 2018
5 Year Anniversary Celebration
Star City Brewing Company
319 S 2nd St. Miamisburg, OH 45342
Brenna Geyer
Paul Monnin of Age Nowhere
The Nautical Theme
Max Nunery of The Repeating Arms
Greg Van Bebber
Stringus Khan

Friday, Oct. 12th, 2018
Hannah's
121 N Ludlow St, Dayton, OH 45402
Marjorie Lee and The Lovers

Saturday, Oct. 6th, 2018
Yellow Springs Porchfest

Wednesday, Oct. 3rd, 2018
Northside Tavern
4163 Hamilton Ave, Cincinnati, OH 45223
Marjorie Lee and The Lovers

Saturday, Sept. 22nd, 2018
Fall at the Round Barn - Vintage & Made Market
Fairfield County Fairgrounds
157 E Fair Avenue, Lancaster, Ohio

Friday, August 31st, 2018
Star City Brewing Company
319 S 2nd St. Miamisburg, OH 45342
Jeremy Garrett of the Infamous Stringdusters
Stringus Khan
The Nautical Theme

Thursday, August 30th, 2018
The Listing Loon
4124 Hamilton Ave. Cincinnati, OH 45223
St. Mary, St. Michael
The Nautical Theme

Saturday, August 25th, 2018
Dayton Porchfest St. Anne's Hill Historic District - Dayton, Ohio

Friday, August 17th, 2018
Un Mundo Cafe
117 S Fountain Ave, Springfield, OH 45502
XL427
The Nautical Theme

Thursday, July 19th, 2018
Star City Brewing Company
319 S 2nd St. Miamisburg, OH 45342

Saturday, July 28th
The Root Cafe
15118 Detroit Ave. Lakewood, OH 44107

Saturday, July 28th, 2018
The Summer Market
Veterans Memorial Park
Avon Lake, Ohio
at Rte. 83 & Lake Road

Tuesday, June 26th, 2018
Peach's
104 Xenia Ave Yellow Springs, Ohio

Sunday, June 3rd, 2018
Singer Songwriter Series
Jimmie's Ladder 11
936 Brown St, Dayton, OH 45409
Tod Weidner
The Nautical Theme
Kent Montgomery

Saturday, June 2nd, 2018
Coffee Amici
328 S. Main St. Findlay, OH 45840

Saturday, June 9th, 2018
Yellow Springs Street Fair
Soin Stage (Near Mills Lawn Elementary School) South Walnut St. & Xenia Ave., Yellow Springs, OH

Saturday, April 21st, 2018
Jimmie's Ladder 11
936 Brown St, Dayton, OH 45409
The 1984 Draft
Kyleen Downes

Friday, February 16th, 2018
Dayton Music Scene
Filming for Dayton Music Scene broadcast, DATV

Wednesday, February 14th, 2018
J.D. Legends, Franklin, OH
65 Millard Dr, Franklin, OH 45005

Saturday, February 3rd, 2018
Uncorked Akron & High Street Hop House
22 N High St, Akron, Ohio 44308

JAN. 13, 2018
Madison Live
Covington, KY

OCT. 21, 2017
Oregon Express
Starving in the Belly of the Whale
The Nautical Theme
Bloody Tambourine and the Musical Mafia
David Payne

OCT 10, 2017
The Nautical Theme Live On WUDR Flyer Radio
WUDR Flyer Radio 99.5/98.1
Dayton, OH

OCT. 7, 2017
Tipp City Limits
Tipp Roller Mill
Tipp City, OH

SEP. 23, 2017
Coffee Amici
328 S. Main St. Findlay, OH 45840

SEP. 23, 2017
The Nautical Theme Live On WLFC Findlay, OH

SEP. 16, 2017
Un Mundo Cafe
117 S Fountain Ave, Springfield, OH 45502
Jill & Micah
The Nautical Theme

AUG. 27, 2017
Jimmie's Ladder 11
936 Brown St, Dayton, OH 45409

MAY 24, 2017 The Nautical Theme Live on Kaleidoscope
WYSO 91.3

MAY 12, 2017
Sideshow 12
Yellow Cab Tavern
700 E 4th St, Dayton, OH 45402
Tesia and Matt, Photo: The Nautical Theme
Dayton Battle of the Bands 2020, The Brightside
Performing on DATV, Photo: Dayton Music Scene
Lore/Gem City SoberBar, Photo: Whitney Brewer Photography
Sound Valley Winter Music Festival 2019, Photo: Ashley Karsten
Performing at Uncorked, Photo: Eric Nagel
Singing at Oregon District Days, Photo: Tom Gilliam Photography
NPR Tiny Desk Contest, 2019 Session
Singing at Holidayton 2018, Photo: Dylan Digital Media
Live Set in the 91.3 WYSO Studios
Sharing Songs at The Coffee Pot
Yellow Springs Porchfest 2018
Live Music at Herzog Music, Photo: Charlie Jackson
Sofar Cincinnati Set, Photo: Bailey Miller Photography
Playing at Jimmie's Ladder 11 on the Patio, Songwriter's Series
Dayton Porchfest 2019 Set, Photo: Terrilynn Meece
Songs at Troy, OH Porchfest 2019, Photo: Patti McAtee
Live in the Lounge at WLFC