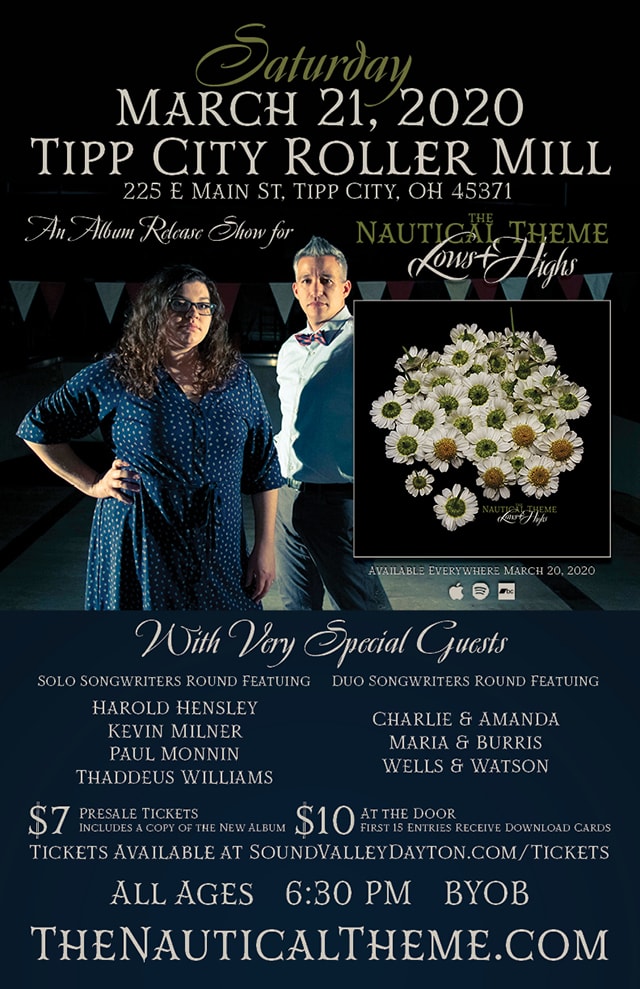 The Nautical Theme, "Lows+Highs", Album Release Celebration

Pick Up Pre-Sale Tickets Now and Recieve a Copy of the New Album
Have a Moment?
Hear a Song!
Listen to Our Music On Your Favorite Platform Below
Who We Are
A Little Bit About Us
Hailed as "Wild Open Harmony Folk Music", The Nautical Theme has been captivating audiences with cinematic melodies since 2017. Plunging the depths of emotion these two voices soar and dive in such a way that upon their first pairing it was clear that something contagiously haunting was about to make waves.

Fortunately for The Nautical Theme's Tesia Mallory (vocals, keys) and Matt Shetler (vocals, guitar) a mutual friend had the insight to bring these voices together in 2014 to fill out the lineup for a fledgling indie rock project. However, it wasn't until a few years later that a focus on the power of their melody and harmony matched with articulate arrangements began to truly shine. The Nautical Theme, the modern folk duo co-fronted by Mallory and Shetler, played their first show in their hometown of Dayton, Ohio in March of that year. That first show, the Sideshow 12 music and art festival held at Yellow Cab Tavern, was promptly followed by writing, performing many regional shows, and recording, culminating in a debut album, Float, which was released in April 2018.

Recorded at Shetler's Ready Shet Go Studio, Float was mixed by Micah Carli, formerly of Hawthorne Heights (Nightbeast, The 1984 Draft) and mastered by Jake Bryant (Dangerkids, Cinema Century). The album and the duo's performances gathered up a handful of positive reviews from places like Soundblab, Americana UK, and Tuned Up. Don Thrasher (Guided By Voices, Swearing at Motorists, Smug Brothers) graciously placed Float in the top 20 albums released from Dayton in 2018 in his yearly round up article for the Dayton Daily News. The Nautical Theme also found radio play on several stations throughout the year.

Mallory and Shetler set out to create their second album with a sharper focus on the duo's strengths - straightforward songwriting, lush melodies, and engaging dynamics. Returning once again to the comfort and schedule accommodating space of Ready Shet Go Studio, they completed ten new songs. To expand the concept of the album title, Lows and Highs, Mallory and Shetler made a deliberate choice to build out the arrangements for half of the songs, which included adding live drums to several of the tracks. The drums were recorded by long time friend, previous musical collaborator, and supporter of the band, Justin Crim and were tracked by Micah Carli at his Popside Recording studio. Carli was once again tapped by the band to mix the album. John Naclerio (American Authors, My Chemical Romance, Brand New) lent his talents to master Lows and Highs.

RIYL:
The Civil Wars
Jimmy Eat World
The Oh Hellos
The Lumineers
Gregory Alan Isakov
The Smashing Pumpkins
Connect With Us
We'd Love to Hear from You
Upcoming Shows
Let's Get Together Soon
Tuesday, March 10, 2020
Your Tuesday Afternoon Alternative
WUDR 98.1 FM
4:00 pm
Listen to WUDR Online Here



Saturday, March 21, 2020
Low and Highs Album Release Show
Tipp City Roller Mill
225 E. Main St. Tipp City, OH 45371
All Ages
Doors 6:30 pm
BYOB
With Very Special Guests:
Solo Songwriters' Round Featuring:
Harold Hensley
Kevin Milner
Paul Monnin
Thaddeus Williams

Duo Songwriters' Round Featuring:
Charlie & Amanda
Maria & Burris
Wells & Watson

$7 Presale tickets, includes a copy of Lows and Highs
$10 day of show, first 15 entries receive an album download card
Tickets available at soundvalleydayton.com/tickets

Wednesday, April 15, 2020
Kaleidoscope
WYSO 91.3 FM
More details TBA

Saturday, April 18, 2020
Omega Music
Record Store Day
318 E 5th St, Dayton, OH 45402
More details TBA

Friday, April 24, 2020
Trojan City Music
106 E Main St, Troy, OH 45373
More details TBA

Saturday, May 30, 2020
For Dayton By Dayton
Riverscape Metropark
More details TBA

Sunday, May 31, 2020
Eichelberger Amphitheater
8625 Brandt Pike Huber Heights, OH 45424
2:00 PM

Friday, Aug. 7, 2020
Hatch Artists Studios
105 N Center St, Springfield, OH 45502
6:30 pm
Amber Hargett
The Nautical Theme

Saturday, Sept. 12, 2020
Troy, OH Porchfest 2020
More details TBA

Saturday, Oct. 10, 2020
Yellow Springs Street Fair
Soin Stage
3:00 pm
Digital and physical copies of our music, T-shirts, stickers, and more. Take a look and find something you like.
Our Debut Album, "Float"
Released April, 2018
"Float" was recorded at Shetler's Ready Shet Go studio throughout 2017 and early 2018. We were excited to work with Micah Carli, Popside Recording, and have his very capable ears, head, and heart available to mix this album. Jake Bryant, Platinum Audio mastered the album and we couldn't have been more pleased with the final product.

We have been fortunate enough to receive some kind words about our album. We are honored that the following people took the time to listen and write about "Float". See what they had to say by reading the full reviews and please take a moment to follow these publications and individuals:

"Intensely Bittersweet Love Songs of Immense Proportions"
Alan, The Rocking Magpie "Wild Open Harmony Folk Music"
Bill Golembeski, Soundblab "Inspiring and Cinematic"
Justin, Atlas and the Anchor "Fine & Musically Accomplished Example of Modern Folk"
Jonathan Aird, Americana UK "Incredible Harmonies and Some Stunning Melodies"
Vicky Caswell, Thinking Lyrically In the Top 20 Releases from Dayton, OH, 2018
Don Thrasher "The Duo's Folk/Americana Sound is Memorable and Lush"
Ryan Getz, Tuned Up
We want to thank all of the kind and wonderful people at the following stations and sites that have added our music to their rotations and playlists.

WYSO 91.3, Yellow Springs WUDR 99.5 / 98.1, Flyer Radio WLFC 88.3, Findlay's Indie WTUD, Tiffin University WHIO 95.7, The Sunday Edge with Todd Hollst Inhailer Gems of Dayton Ohio Music Ohio Artists to Watch 2019 Edition Discover Dayton Local Discover, Promowest Ohio Unsigned Artists Frame the Stage | Within The Spotlight Would you like to add our music to a station rotation or playlist? Let us know and we'll be more than happy to help you out!
Places We've Been & People We've Seen
Previous Shows
Tuesday, Jan. 21, 2020
Dayton Battle of the Bands
The Brightside Music & Event Venue
905 E. Third Street
Dayton, Ohio 45402
7:00 pm
Get Tickets Now
The Katawicks
The Nautical Theme
DeadwoodAlley
The American Landscape

December 20th, 2019
7th Annual Songwriters' Solstice
Gem City Catfé
1513 E 5th St, Dayton, OH 45403
Achilles Tenderloin
Meg Cavanaugh
Vivian
The Nautical Theme
Brandon Berry
Anna Baugham
Boo Lee Crosser
Sam Stone
Kevin Milner

November 27th, 2019
The Nautical Theme at Opening Night - Gem City SoberBar Pop-Up
Lore
116 W 5th St., Dayton, OH
Alec Snead
The Nautical Theme
DJ Etch

November 1st, 2019
The Nautical Theme at The Coffee Pot
The Coffee Pot
537 S Broadway St #101, Greenville, OH 45331

Saturday, October 12th, 2019
Yellow Springs Street Fair 1:00 pm, Soin Stage
More info at Yellow Springs Street Fair

Saturday, September 14th, 2019
Troy, Ohio Porchfest
More info at Troy, Ohio Porchfest

Saturday, September 14th, 2019
Yellow Springs, Ohio Porchfest
More info at Yellow Springs, Ohio Porchfest

Saturday, August 24th, 2019
Dayton, Ohio Porchfest
More info at Dayton, Ohio Porchfest

Friday, August 2nd, 2019
Art in the City
More Information about Art in the City

Sunday, July 28th, 2019
Singer Songwriter Series
Jimmie's Ladder 11
936 Brown St, Dayton, OH 45409
The Nautical Theme
Kevin Milner
Shades of Grey

July 6th, 2019
Independence District Day! - The Oregon District
501 E. Fifth Street, Dayton, Ohio 45402

Friday, June 14th, 2019
Peach's
104 Xenia Ave, Yellow Springs, OH 45387
The Nautical Theme
Stringus Khan

Saturday, March 2nd, 2019
Sound Valley Winter Music Festival
The Brightside Music & Event Venue
905 East. Third St., Dayton, OH 45402

Main Stage:
Nightbeast
We Are the Movies
The Story Changes
Lioness
RIND

Acoustic Stage:
BJSR
Paige Beller
Knavery
The Nautical Theme
Zack Sliver of Yuppie

Thursday, Jan. 31st, 2019
Sofar Sounds Cincinnati
Fifty West Production Works
7605 Wooster Pike, Cincinnati, OH 45227
The Nautical Theme
Joshua Powell
The Ophelias

Friday, Jan. 4th, 2019
Northside Tavern
4163 Hamilton Ave, Cincinnati, OH 45223
Michael Moeller
The Nautical Theme
Willow Tree Carolers

Friday, Dec. 21st, 2018
Holidayton 2018
Blind Bob's
430 E 5th St, Dayton, Ohio 45402
The Story Changes
Abertooth Lincoln
YARDBOSS
The New Old-Fashioned
Jasper the Colossal
The 1984 Draft
The Raging Nathans
c.wright's Parlour Tricks
King Serpent
The Nautical Theme

Saturday, Dec. 8th, 2018
Oregon Express
336 E 5th St, Dayton, OH 45402
The American Landscape
Neo American Pioneers
The Nautical Theme

Saturday, Nov. 17th, 2018
Special In-Store Performance
Herzog Music
811 Race St, Cincinnati, OH 45202
The Heisey Glass Company
The Nautical Theme
Acousticsteveo
Charlie Jackson
Age Nowhere
Hooligan Ghosts
Goodnight Goodnight
Team Void

Thursday, Nov. 15th, 2018
5 Year Anniversary Celebration
Star City Brewing Company
319 S 2nd St. Miamisburg, OH 45342
Brenna Geyer
Paul Monnin of Age Nowhere
The Nautical Theme
Max Nunery of The Repeating Arms
Greg Van Bebber
Stringus Khan

Friday, Oct. 12th, 2018
Hannah's
121 N Ludlow St, Dayton, OH 45402
Marjorie Lee and The Lovers

Saturday, Oct. 6th, 2018
Yellow Springs Porchfest

Wednesday, Oct. 3rd, 2018
Northside Tavern
4163 Hamilton Ave, Cincinnati, OH 45223
Marjorie Lee and The Lovers

Saturday, Sept. 22nd, 2018
Fall at the Round Barn - Vintage & Made Market
Fairfield County Fairgrounds
157 E Fair Avenue, Lancaster, Ohio

Friday, August 31st, 2018
Star City Brewing Company
319 S 2nd St. Miamisburg, OH 45342
Jeremy Garrett of the Infamous Stringdusters
Stringus Khan
The Nautical Theme

Thursday, August 30th, 2018
The Listing Loon
4124 Hamilton Ave. Cincinnati, OH 45223
St. Mary, St. Michael
The Nautical Theme

Saturday, August 25th, 2018
Dayton Porchfest St. Anne's Hill Historic District - Dayton, Ohio

Friday, August 17th, 2018
Un Mundo Cafe
117 S Fountain Ave, Springfield, OH 45502
XL427
The Nautical Theme

Thursday, July 19th, 2018
Star City Brewing Company
319 S 2nd St. Miamisburg, OH 45342

Saturday, July 28th
The Root Cafe
15118 Detroit Ave. Lakewood, OH 44107

Saturday, July 28th, 2018
The Summer Market
Veterans Memorial Park
Avon Lake, Ohio
at Rte. 83 & Lake Road

Tuesday, June 26th, 2018
Peach's
104 Xenia Ave Yellow Springs, Ohio

Sunday, June 3rd, 2018
Singer Songwriter Series
Jimmie's Ladder 11
936 Brown St, Dayton, OH 45409
Tod Weidner
The Nautical Theme
Kent Montgomery

Saturday, June 2nd, 2018
Coffee Amici
328 S. Main St. Findlay, OH 45840

Saturday, June 9th, 2018
Yellow Springs Street Fair
Soin Stage (Near Mills Lawn Elementary School) South Walnut St. & Xenia Ave., Yellow Springs, OH

Saturday, April 21st, 2018
Jimmie's Ladder 11
936 Brown St, Dayton, OH 45409
The 1984 Draft
Kyleen Downes

Friday, February 16th, 2018
Dayton Music Scene
Filming for Dayton Music Scene broadcast, DATV

Wednesday, February 14th, 2018
J.D. Legends, Franklin, OH
65 Millard Dr, Franklin, OH 45005

Saturday, February 3rd, 2018
Uncorked Akron & High Street Hop House
22 N High St, Akron, Ohio 44308

JAN. 13, 2018
Madison Live
Covington, KY

OCT. 21, 2017
Oregon Express
Starving in the Belly of the Whale
The Nautical Theme
Bloody Tambourine and the Musical Mafia
David Payne

OCT 10, 2017
The Nautical Theme Live On WUDR Flyer Radio
WUDR Flyer Radio 99.5/98.1
Dayton, OH

OCT. 7, 2017
Tipp City Limits
Tipp Roller Mill
Tipp City, OH

SEP. 23, 2017
Coffee Amici
328 S. Main St. Findlay, OH 45840

SEP. 23, 2017
The Nautical Theme Live On WLFC Findlay, OH

SEP. 16, 2017
Un Mundo Cafe
117 S Fountain Ave, Springfield, OH 45502
Jill & Micah
The Nautical Theme

AUG. 27, 2017
Jimmie's Ladder 11
936 Brown St, Dayton, OH 45409

MAY 24, 2017 The Nautical Theme Live on Kaleidoscope
WYSO 91.3

MAY 12, 2017
Sideshow 12
Yellow Cab Tavern
700 E 4th St, Dayton, OH 45402
Tesia and Matt, Photo: The Nautical Theme
Dayton Battle of the Bands 2020, The Brightside
Performing on DATV, Photo: Dayton Music Scene
Lore/Gem City SoberBar, Photo: Whitney Brewer Photography
Sound Valley Winter Music Festival 2019, Photo: Ashley Karsten
Performing at Uncorked, Photo: Eric Nagel
Singing at Oregon District Days, Photo: Tom Gilliam Photography
NPR Tiny Desk Content, 2019 Session
Singing at Holidayton 2018, Photo: Dylan Digital Media
Live Set in the 91.3 WYSO Studios
Sharing Songs at The Coffee Pot
Yellow Springs Porchfest 2018
Live Music at Herzog Music, Photo: Charlie Jackson
Sofar Cincinnati Set, Photo: Bailey Miller Photography
Playing at Jimmie's Ladder 11 on the Patio, Songwriter's Series
Dayton Porchfest 2019 Set, Photo: Terrilynn Meece
Songs at Troy, OH Porchfest 2019, Photo: Patti McAtee
Live in the Lounge at WLFC